WordPress Plugins give your website extra functionality. There are a few essential plugins needed on every site. These include the following:
Akismet

SEO plugin (I recommend Yoast SEO)
Google Analytics plugin (try Google Analytics for WordPress by MonsterInsights)
Social Media Plugin (there are a number of good ones we will review)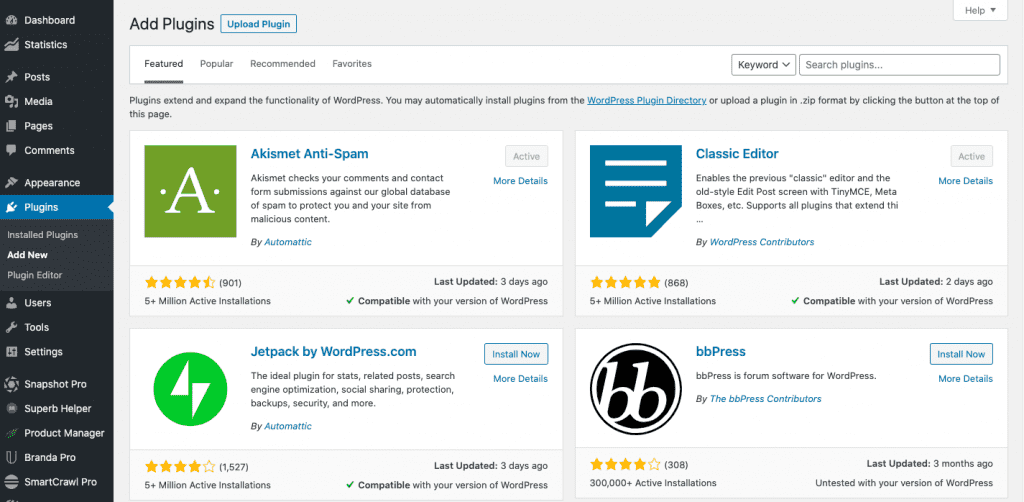 The initial installation of WordPress comes with two plugins. These are the Akismet plugin and the Hello Dolly plugin.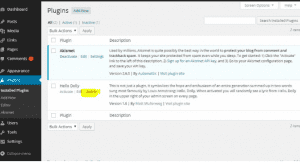 I suggest you delete the Hello Dolly plugin as I have never found a use for this plugin yet.
Here briefly is a summary of the basic plugins. We will be covering these in-depth in later lessons.
Akismet
The Akismet plugin should be used to help control comment Spam. As it is included in WordPress you simply have to click on the Activate link.
This will take you to a page where you have to enter a key you get from Akismet.  It tells you to click a link to get the key. Simply follow the instructions and get your key and enter it into the plugin to get the Akismet spam control plugin working.
Yoast SEO
This WordPress SEO plugin helps you with your search engine optimization. Are you not entirely convinced? Yoast SEO is the favorite WordPress SEO plugin of millions of users worldwide!
As Yoast's mission is SEO for Everyone, the plugin's users range from the bakery around the corner to some of the most popular sites on the planet.
Click on Add Plugins and search for 'Yoast SEO'. It should come up as the top plugin. Make sure it is the one by Yoast.

Simply click on the Install Now and the plugin will be installed.
After it is done, click on the Activate button.
Google Analytics for WordPress
Since we are using the excellent WordPress SEO by Yoast – I also recommend his Google Analytics Plugin.  There are quite a few good plugins that help you connect Google Analytics to your WordPress site – but I do like to limit my exposure to plugin suppliers whenever possible.
Again search 'Google Analytics for WordPress' and it should come up as the first one. Again be sure that the creator is Joost De Valk (at the end of the plugin description).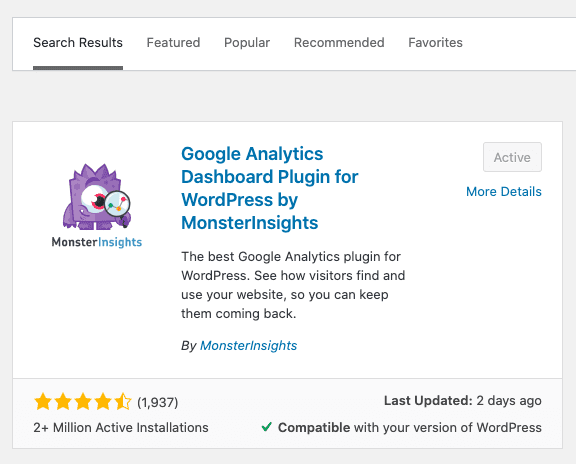 Click the Install Now and this plugin will be installed.
I recommend not activating this plugin yet – until you have set up your Google Analytics account (more details in later lesson).
Social Media Plugin
I will mention two options for a social media plugin.
Monarch — Part of Elegant Themes Membership
Monarch is a user-friendly solution that allows you to display gorgeous social media sharing buttons. Sharing buttons can be displayed above and below content, as a floating sidebar or as an automatic pop-up, or embedded into images and videos, or in a fly-in box that slides onto the page.
It is, however, not a free social media plugin. You can access this through membership in Elegant Themes.
Jetpack 
Another social media plugin to consider is the Jetpack. The sharing module allows you to display simple sharing buttons for most of the popular social media networks. You can choose to display icons with text, icons only or text only, or the official sharing buttons. And it's free.
We will cover social media plugins in greater detail in later lessons.  But I mention it here as I believe if you are starting your website or blog – you should install a social media plugin right away to help with sharing your content.
Either of the above plugins can be easily searched and installed and configured for your site.
Review how to install and configure a plugin by watching the video below.