The WordPress Theme is the part of WordPress that controls the design and the layout of your website or Blog.
There are a large variety of themes available, some free and many premium paid themes.
A basic WordPress Installation will have four standard themes included –  Twenty Sixteen, Twenty Seventeen, Twenty Nineteen and Twenty Twenty. These are all good solid themes that are updated regularly and have a number of options to allow you to customize your website.
Inside the WordPress Dashboard you also have the ability to search for other free themes that WordPress Theme Developers have uploaded to the WordPress Theme Directory. There are many themes available, but I would suggest you find a theme that is regularly updated to avoid any security risks.
That is the one reason that premium/paid themes are highly recommended – they are usually updated on a regular basis, thus have less chance of opening your site to security risks.
If you decide to purchase a premium theme – look for a vendor that has an established history in the WordPress theme business and has good support options.
I also suggest that you only keep the standard themes and any active themes that you are using saved in your theme area.  Hackers have been known to take advantage of vulnerabilities in old themes to break into WordPress installations.
Within each theme you have the option of determining which widgets you would like to appear in the various columns of your website/blog. Widgets can also be added to the Header area or the Footer Area. Again the theme is responsible for giving you choices of where to put widgets.
Widgets are like little tool boxes that allow you to do tasks on your website. For example they can show links, show categories, show a calendar or show customized text.
We will go into widget in more detail in advanced lessons.
When editing your theme you may have the options of switching between a single column, two columns, three columns, or even four columns for your content. depending on how the theme was designed.
There is also the menu editing area in the appearance menu. You can set the menus you would like to have on your theme by building custom menus.
Many themes also give you options related to background colors or images, header styles, text or image logo options and various other design components.
A simple design that gets your message across will work for your business. One excellent way to get your website looking professional right away is to simply use the standard Twenty Seventeen theme, and remove the image in the header. This gives your website a text based header with your website name and your tag line (set up in your settings).
It is clean and professional.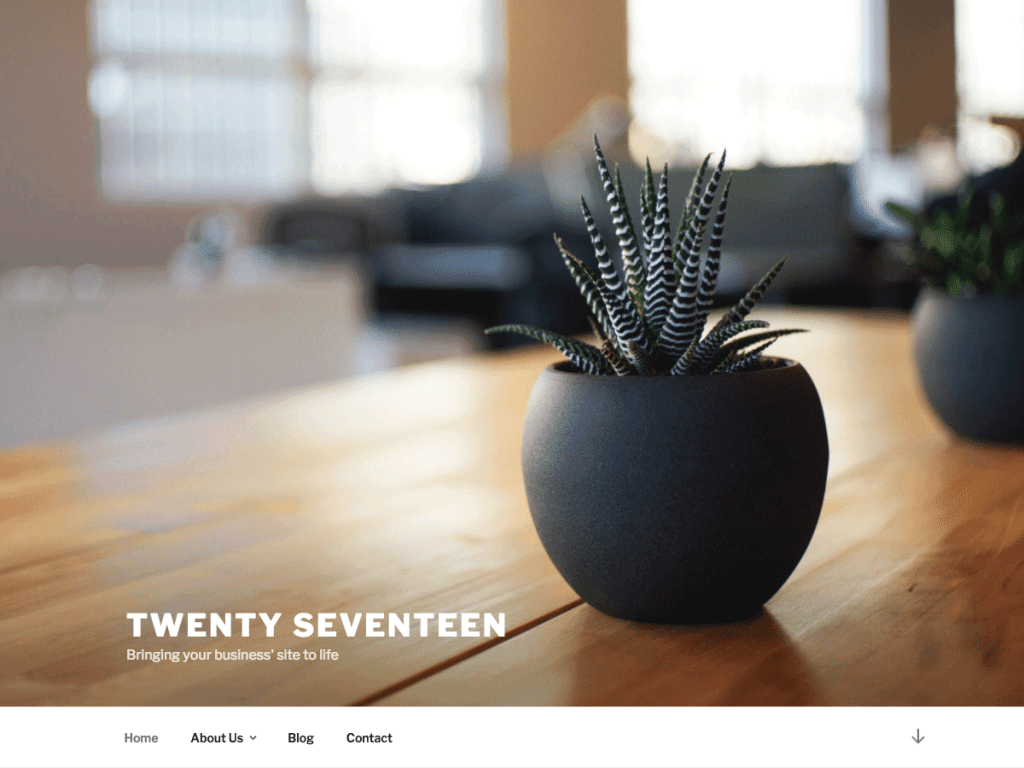 Twenty Sixteen is a modernized take on an ever-popular WordPress layout — the horizontal masthead with an optional right sidebar that works perfectly for blogs and websites.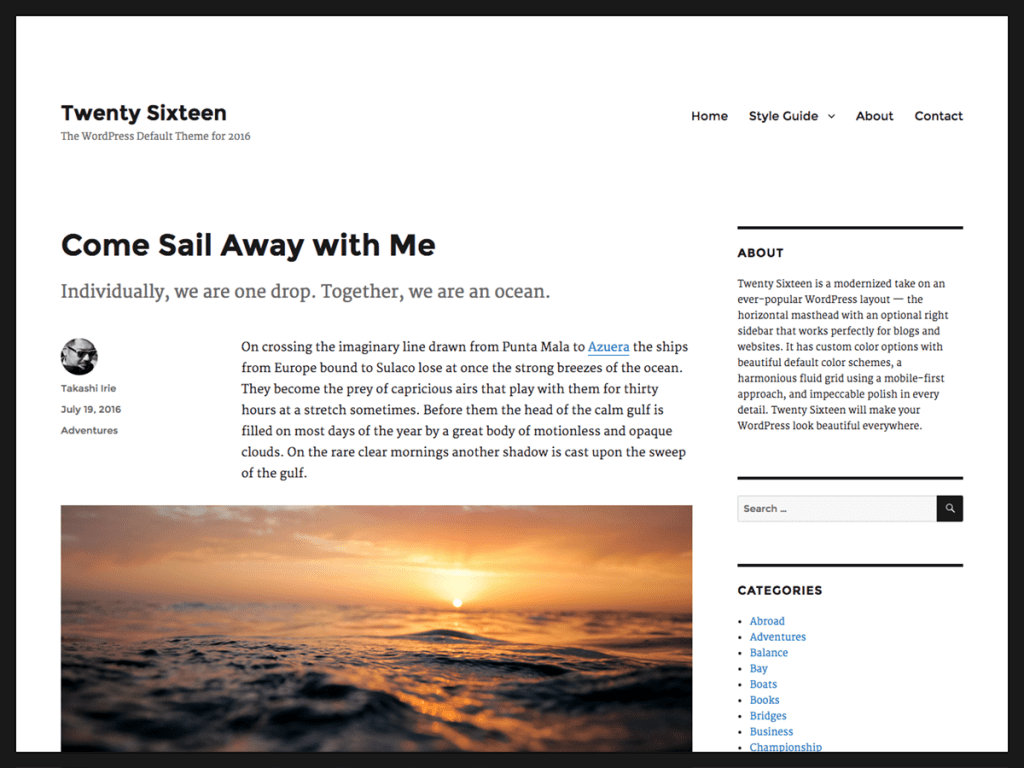 Twenty Nineteen is designed to be adaptable to a wide range of websites, whether you're running a photo blog, launching a new business, or supporting a non-profit. Featuring ample whitespace and modern sans-serif headlines paired with classic serif body text, it's built to be beautiful on all screen sizes.
Twenty Twenty is designed to take full advantage of the flexibility of the block editor. Organizations and businesses have the ability to create dynamic landing pages with endless layouts using the group and column blocks. The centered content column and fine-tuned typography also makes it perfect for traditional blogs.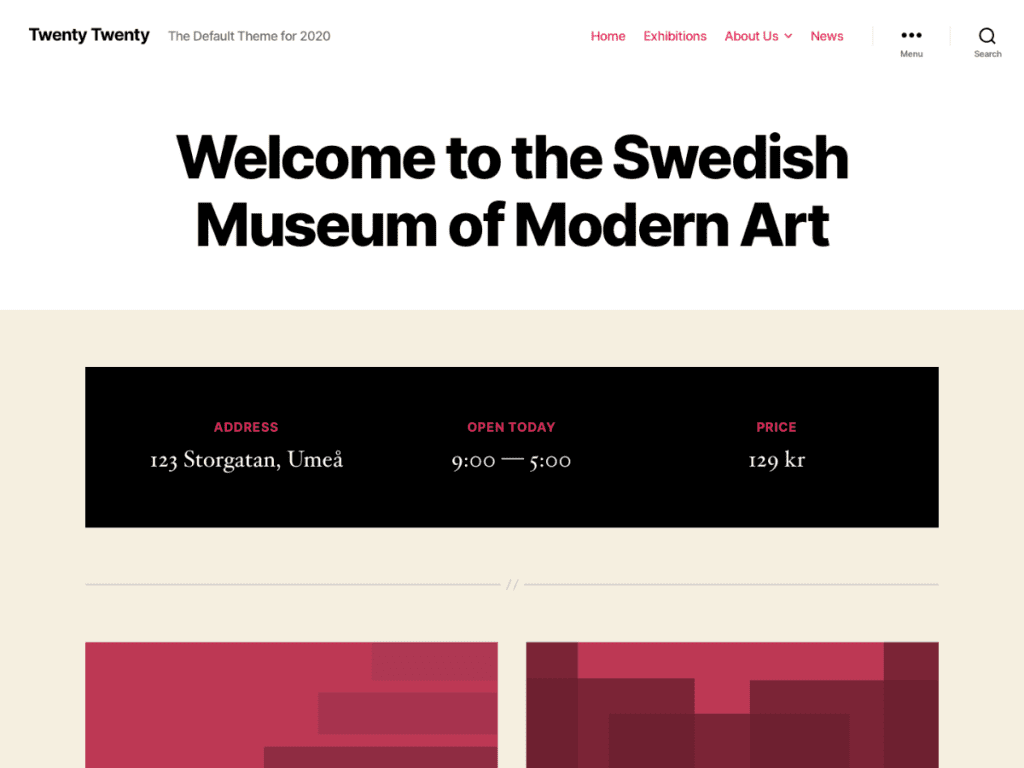 Review how to install a WordPress theme by watching the video below.
Now, let's talk about menus.
One of the options that each theme has is to be able to create customized menus. You can add Pages, Links or Categories to menus. Once you add them to the menu, you can drag and drop them into whatever order you want, including pulling them left to form sub-menus.
Always click Save Menu after doing any changes to the menu.
Depending on the theme you are using,  you may create and add one or more menus to your website. Themes may have options for menus at the top of your page, below the header, or in the footer.
Review about navigation menus by watching the video below.
Let's move on to discuss WordPress Plugins.