WordPress was originally a blogging platform and is still extensively used for blogging. Therefore we will cover creating a post next. Posts are what make your blog a blog — they are servings of content that are listed in reverse chronological order (newest to oldest) on your blog page.
The primary difference between pages and posts in WordPress is that posts are time-relevant where as pages are for more fixed content.
Posts can be used for blogs – that is how WordPress originally began. In fact it was not until version 1.5 that WordPress actually had the page option.
Posts are also great for news items, press releases, or any other time-bound type of content.
As well, posts can be used when you want to continually add content to a section, for example to describe new product advancements and uses of a product – you could use posts in your product specific category.
On the main left hand menu just below Dashboard you will see the Posts menu.
On the Posts menu you can click to view All Posts, you can Add New post, and you can also examine and set your Categories and Tags.
We will be discussing Tags in a more advance lesson.  We will cover Categories a little later in this Quick Start Module.
For now let's focus on creating a new post.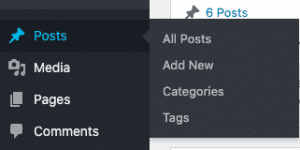 WordPress actually gives us three ways to get to the New Post page.  From the left hand menu you can click Add New.
If you are on the All Posts page you can click the Add New at the top of the page.
And from anywhere in the Dashboard you can roll your cursor over the +New in the top menu at the top of the page and choose Post.
The Add New Post page is pretty easy to understand.  When entering the actual content of the post it is based on the WYSIWYG concept (What You See Is What You Get).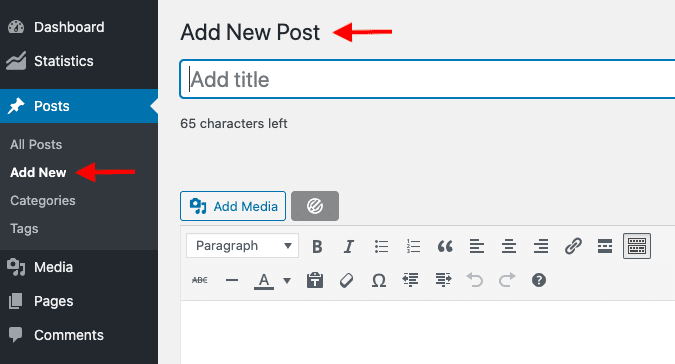 WordPress calls this the Visual screen and it is the default content box you see.
The first step is to enter your post title where it says 'Add title'.
Try to create an interesting title, and descriptive title.  Try to incorporate a key word or key phrase that represents the topic you will be writing about.
Next step is to insert your blog post into the main content box.  I always suggest to pre-write your blog post using a basic text editor.  One of the big reasons for this is that if you lose your internet connection and /or hit the wrong key – you don't want to lose the content you have created. WordPress does have auto-save, but still better to be safe than sorry.
I also suggest to not use Microsoft Word or some other full featured editing program as it can sometimes insert strange formatting into your post that you do not want.
WordPress has gotten substantially better at accepting pasted content from Word – but occasionally it still causes the odd annoying formatting problem.
A basic text editor – when copy and pasting – will do the best job. Almost every PC comes with a copy of NotePad or WordPad.  Or there are many you can download and use such as TextPad.
WordPress gives you the basic set of formatting tools along the top of the content box as seen in the diagram.

The very last icon on the tool bar is the Show/Hide Kitchen sink (Red Arrow above is point to it).  By clicking this you get more in-depth editing tools.  I recommend you click this to show the second row of tools as you will need them – particularly the main formatting drop box.
When formatting your text content it is best to use the dropdown menu containing Paragraph and various Heading settings for formatting your content.  This is a better way to format headings and sub-headings in your content as it can be controlled site-wide with the theme you are using – thus keeping your site looking consistent from post to post.  As well, the search engines will recognize the heading tag and put more importance on those words when they list your posts in the search engine rankings (in particular, H1 and H2 tags). More detail on Search Engine Optimization advice will be covered in other modules.
Aa reminder – with the visual tab on the top of the content box – generally the way you see the post in the content box is the way it will look on your website. The one key difference may be that if you are using a wide screen monitor, and you have a fixed width theme (majority of themes and even websites are fixed width) – then the content box will stretch to the sized of window you have open in your wide screen monitor (plus the left and right menu areas).  But when viewed in your fixed width website it will be back to that constant width.  Therefore I recommend that you keep your working window open to allow for the content box to be the same size approximately as the width of the content in your website.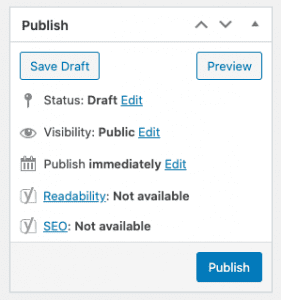 If your ready to go live with the content you are creating – you can click on the Publish button on the right hand side of the Add New Post area. But realize that as soon as you click on the Publish button – your post is now live on the internet for anyone and everyone to see.  For new sites that have little or no people viewing them this is not a concern.  But if you have an active site with many followers – you may want to double check your content and even view the page in draft form.
If your want to save it, but not have it go live – click Save Draft at the top right area of the page.  Then you can click on the Preview button beside the Save Draft button and see what your page will look like. Then if everything is how you like it – you can then click the Publish button.
While we are looking at the top right Publish box – we will show you one more advanced technique.  If you want to create a post, but have it go live on another future date – then click the Edit beside Publish immediately.  This will allow you to enter the date and time that you would like your post to show up live on the internet.
Simple text content is good, but not good enough.  You will want to add various media to your posts such as pictures, video and more. To add various media you click on the Add Media button above the content box.
This will allow a popup screen to enable you to upload a picture or other media.  We will go in to the basics of adding media in a more advanced lesson.
Again -be sure when you are done editing your post to click either Publish or Save Draft so that your hard work will not be lost.
Review WordPress Posting by watching the video below.
Move on the WordPress Pages.