The next step is to confirm a few of the basic WordPress settings before we actually start adding in content.

The Settings menu is at the bottom left side of the menu area.
The Settings menu of your site is where you will configure everything about how your website or blog works and functions. You can access your site's settings by clicking on Settings in the left hand menu. The sub-menu will open up and stay visible.
We will not cover all the settings at this point – only the ones that are vital to get your website up and running. Remember this is the Quick Start Module to get your site up and running fast. We will have more advanced training covering various aspects of WordPress located in the settings menu in later courses.
We will first look at General Settings – so you can click on Settings >> General.
The Site Title is the first text box in General Settings.  When your WordPress script was installed you or whoever set it up probably entered a site title.  You can now change that if needed.
The Site Title is really the name of your website.  It is often used in various places in your website such as the site header and the site title at the top of the browser.  These can all be controlled as we go forward.
It is always good practice to have a Site Title that is related to your website, that is understood by your website visitor / customer, and that you take into account Search Engine Optimization (SEO).
Just below the Site Title text box is the Tagline.  Although not used as much as the Site Title, some themes do show the Tagline in the header just below the Site Title.
Again with your Tagline – create something that helps your website visitor better to understand your site.
The next two lines are the WordPress Address and the Site Address.  They should both be the same and at this point we don't have to change them.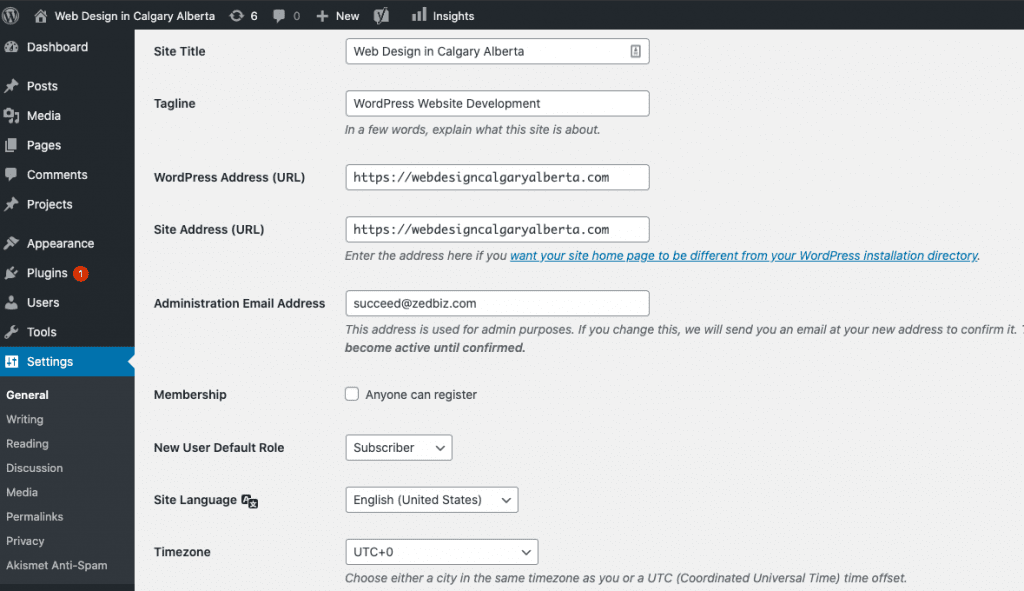 The E-mail address is the next text box.  Often if you had your site set up by someone else, they may have put in their e-mail address.  If they are going to be providing on-going help with your site then you could leave in their e-mail.  Otherwise I would suggest you change this to your e-mail address if it is not already in that text box.
The last two settings can stay as is – at this point we don't want to allow anyone to register so keep that un-checked.  And the most secure role for a new user is the subscriber – so keep that as the New User Default Role.
Next we set how the Date and Time will be displayed on your site.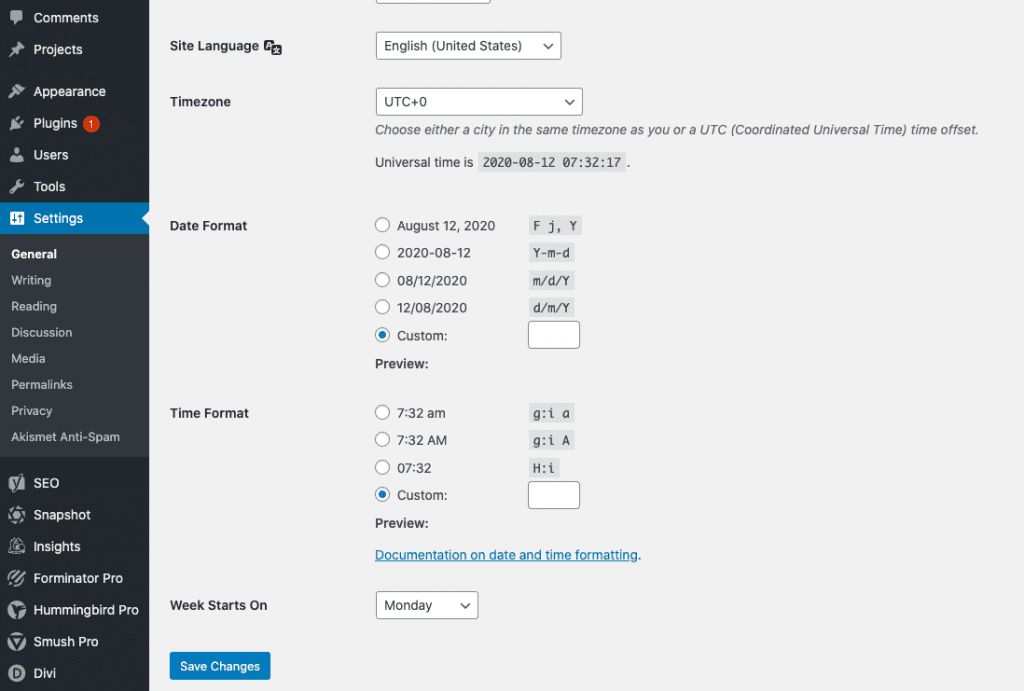 First is to set the Timezone that you are in.  Simply use the drop down menu to scroll through various geographic areas until you find the one that matches where you live.
The timezone is important at times as any changes to new content are time-stamped.  Therefore it is a way to find content based on when you added or edited it.  Also blog posts can show the time and date when posted and it is good to know that it is showing the correct time relative to your website and customers.
Next set the format that you would like both your Date and your Time to be displayed on a typical blog post.  This is more of a personal preference.
And finally chose the Week Starts On day.
Then be sure to click Save Changes so that any changes will actually take effect.
One more area of the Settings menu needs to be looked at and updated at this time – that is the Permalink Settings.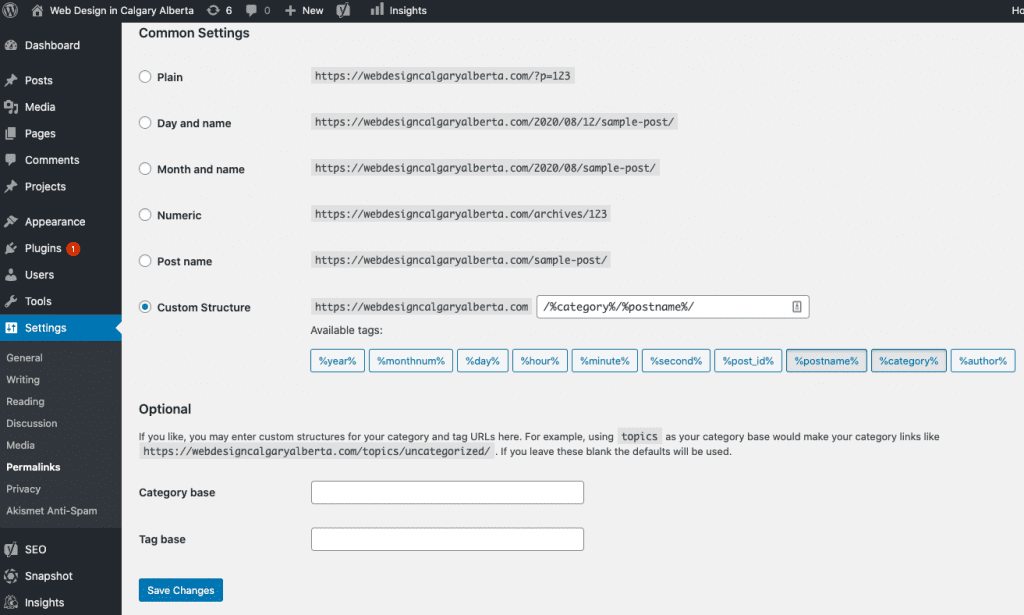 The Permalinks control the url for each page and post of your website. This is important for aesthetic reasons as it eliminates the default number system WordPress uses and makes it so your user can read the url and know what the page is about.  It is also vitally important for Search Engine Optimization (SEO).
To adjust your website Permalinks – click Settings >> Permalinks.
The default WordPress setting is simply numerical which is not effective for human nor search engine consumption.
If you site is very tightly focused around a single topic then either the Day and name option or the Month and name option could work.  Both will be an improvement both visually and for SEO purposes.
I personally prefer to add the category to the url to further refine it for both people and search engines.  Therefore I recommend a custom structure in the format /%category%/%postname%/
Again be sure to click Save Changes when you are done.
Review WordPress Settings by watching the video below.
Let's move on to WordPress Posting.